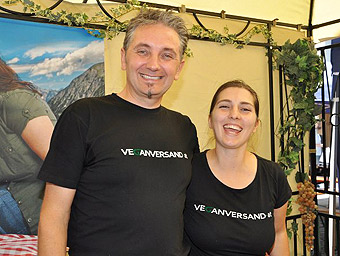 Vegourmet Veganversand is a family business in its purest form. Our team for shipping, booths and expos is comprised exclusively of vegans. We have vegan friends who are responsible for marketing and our website - which saves on cost - and allows us to offer our products at a reasonable price. Because being vegan shouldn't be a luxury.
Vegourmet Veganversand has been a success in the market for more than fifteen years. Nearly ten years ago, we established our own brand. "Vegourmet" growing stronger in the ever growing market. – The vegan lifestyle is becoming mainstream. It is important to us, that we love the products we sell. Vegourmet is not just paying lip service, behind it is the philosophy: Quality before quantity.
The motivation behind the starting the first vegan mail order shop with headquarters in Austria, was the sheer need for the development of a vegan infrastructure in Austria - while Germany already had some online shops and stores, the availability of vegan products in Austria was limited. Today we ship, in addition to many Austrian customers, to more and more customers in Germany and throughout Europe.
We put our heart into it - the customer is king. We are happy to personally assist our customers, we deliver fast and offer quality. Our product range is (deliberately) not the largest, because we are of the opinion that there are plenty of bad products on the vegan market. If we cannot stand behind a product, we will not sell it.
We offer delicious products of high quality, which can convince even omnivores. Also the preparation (authentically smoked) and a selection of great ingredients such as selected spices and herbs ensure a convincing taste experience and - very important to us - easy digestibility.
Above all is the idea to produce compelling products, especially for people making the change to a vegan lifestyle, who miss the familiar pleasures. Vegourmet stands for vegan gourmet products. The name does not just pay lip service, but is a principle - what we don't like 100%, won't be let loose on our customers.