Tortellini Au Gratin, Farmer Style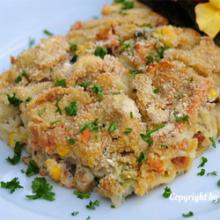 Ingredients
4 Servings
Ingredients
1 package vegan Tortellini
300g organic frozen vegetables, farmer style
100g vegan ham
1 small onion
1 tbsp vegetable oil
Ingredients Sauce
200ml vegan cream
150g plain yoghurt
150g plain tofu
1 tbsp starch
2 garlic cloves
2 tbsp herbed salt
pepper
Ingredients Jeezano-Crust
1 tbsp Jeezano
1 tbsp bread crumbs
2 tbsp margarine
Preparation
Preparation Time: 30 minutes
Thaw the frozen vegetables. Cube the onion and vegan ham. First sauté the onion then add the ham and cook a bit longer. Preheat the oven to 200C°.
Cook the tortellini in salt water then drain. Then place all ingredients for the sauce in a blender and mix well.
Grease an oven proof dish. Mix the tortellini, onions and ham, sauce and thawed vegetables and fill in the form and level the top. Mix the Jeezano and bread crumbs and sprinkle over the tortellini mixture. Top with little chunks of margarine. Bake for 35-40 min, until the top is golden brown and the Jeezano is crispy.